GestióIP is a automated, web based IPv4/IPv6 address management (IPAM) software. It features powerful network discovery and IP tracking functions and offers search and filter functions for both networks and host, permitting Internet Search Engine equivalent expressions. This lets you find the information that administrators frequently need easily and quickly. GestióIP IPAM is free software.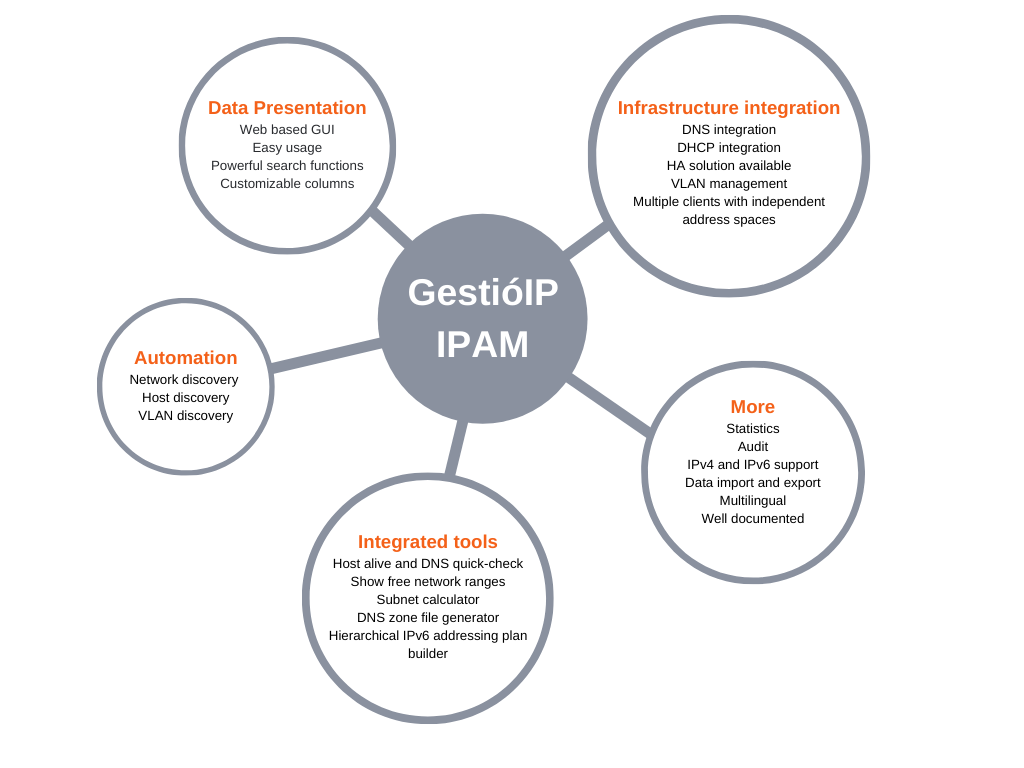 Show more features
GestióIP Cloud - IPAM-as-a-Service
GestióIP is also available as service in Cloud. GestióIP Cloud IPAM-as-a-Service is an alternative to the On-Premise installation of the software. It offers an easy way to implement an IP Address Management system and to at once enjoy the benefits of a cloud based software solution.
read more
Commercial features and services
GestióIP is free software. To satisfy business needs, the project offers additionally commercial features and services.
Features
API
GestióIP's Application Programming Interface (API) defines functions which allow other applications to interact with GestióIP. Apart from the standard CRUD functions, the GestióIP API offers some additional advanced features.
Configuration Management Module
The GestióIP project offers an additional PlugIn to backup and manage the configurations of network devices. The CMM offers a flexible and comfortable way to automatically backup and manage configurations of network devices like switches, routers, load balancer or firewalls.
read more
Services
Support Service
The project offers a commercial support service with guaranteed response times. There are two levels of support available.
Email support
Telephone support
read more
Installation Service

The installation service includes the installation of the GestióIP software, it's configuration and the adaptation to the client's specific requirements. The service also includes the database initialization with the client's network and host information.
read more
Custom Development Service

Are you missing features? The GestióIP project offers a custom development service for the implementation of new features or adaptations to organization specific requirements in short term.
read more
Training

Train your stuff to take the maximum benefits from GestióIP.
read more