GestióIP's front page gives an overview of the existing networks. It offers quick-filter to show e.g. all networks of the production environment and powerful search functions for both, networks and hosts which permit internet-search-engine equivalent expressions like "exact match" or -string_to_ignore

GestióIP IP address management offers different network views: Host list view, host overview, host status view
Host list view lists all IP addresses of a network with the possibility to list only the occupied or only the free IP addresses. It shows the status of hosts (up, down, never checked) with a colored point in front of the addresses and offers links to check the host status, to access host history and to edit or to delete host entries.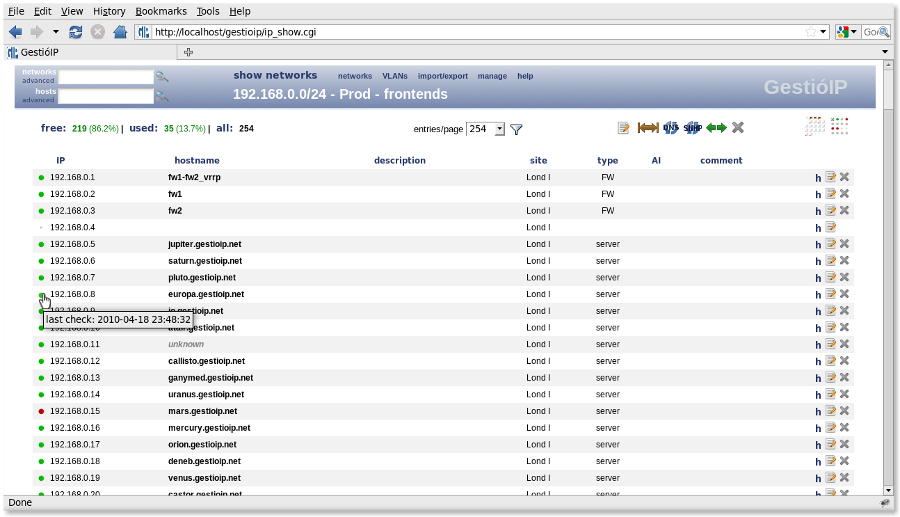 Host overview gives an overview of the host-types. By clicking over an address you will enter the "host edit" form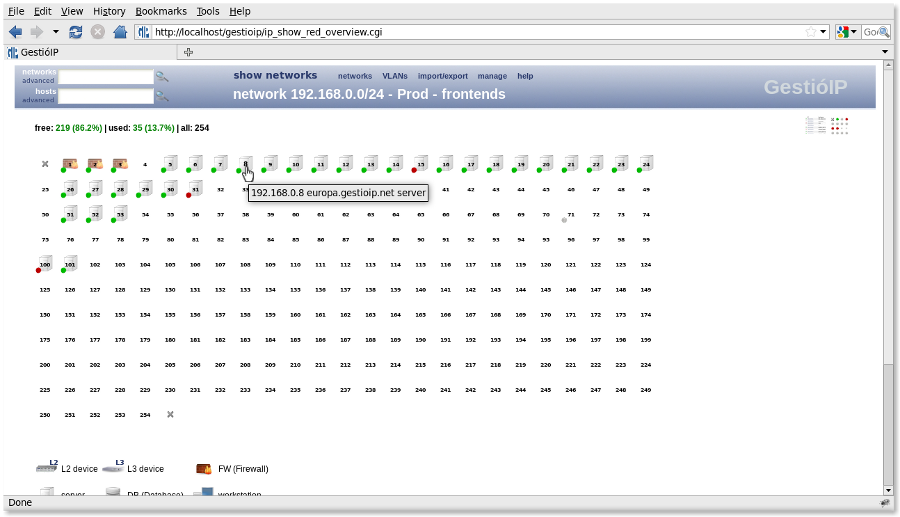 Host status view shows the status of all IP addresses of a network in a compact manner. Execute directly the host check by clicking over an address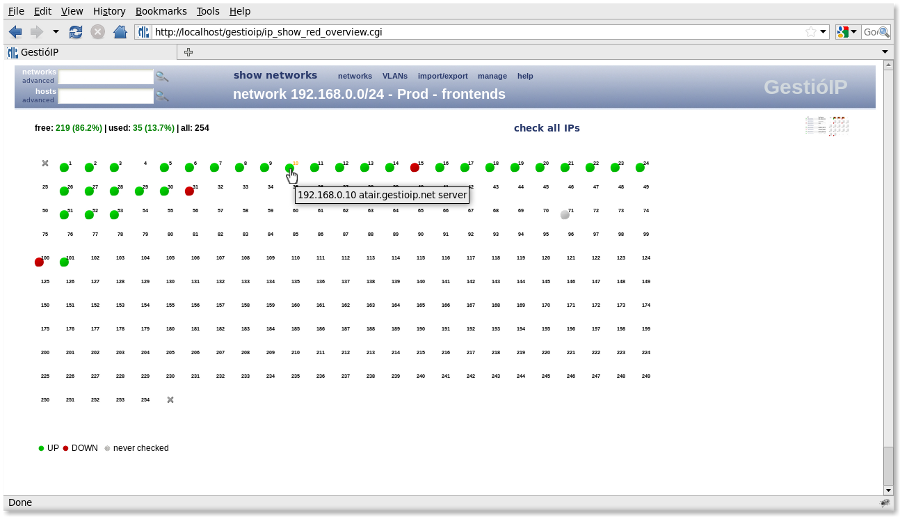 Host check window (ping, DNS A and DNS PTR entries)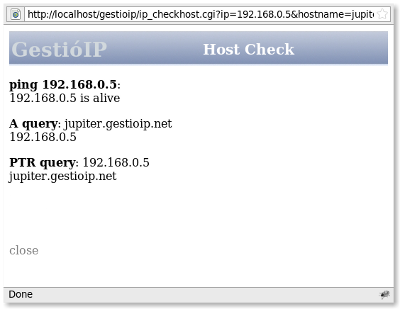 GestióIP comes with a VLAN management system including an automatic VLAN discovery mechanism.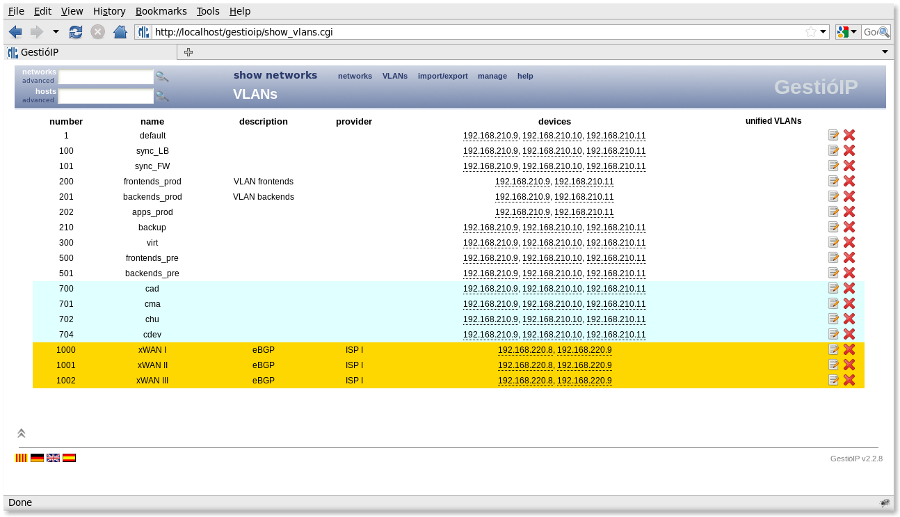 GestióIP disposes about a powerful discovery function able to find networks, hosts and VLANs by only introducing one or more IPs of devices holdig routing tables.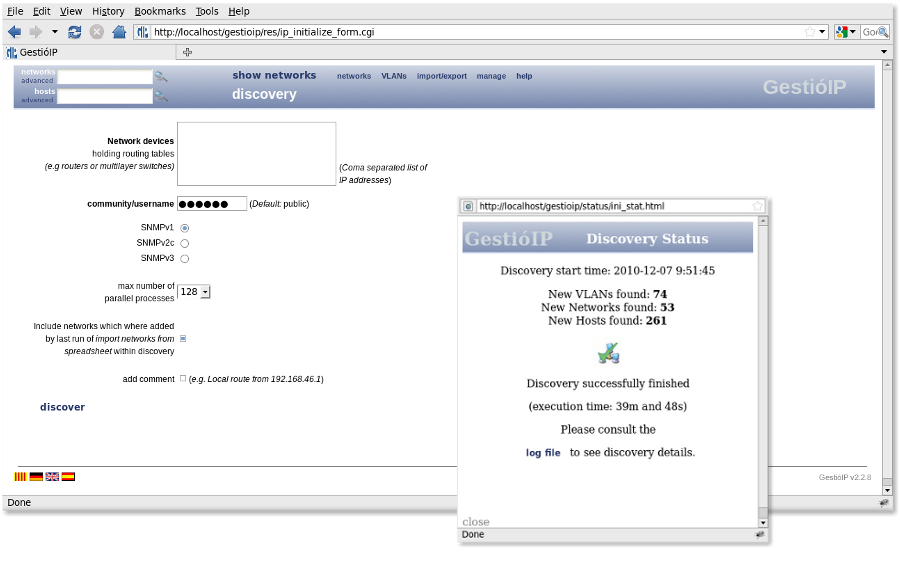 GestióIP supportes different clients with independet IP ranges and VLANs. If there is more than one client defined there appears a new select box in the menu indicating actual client. The screenshot shows the result of a client independent network search for "192".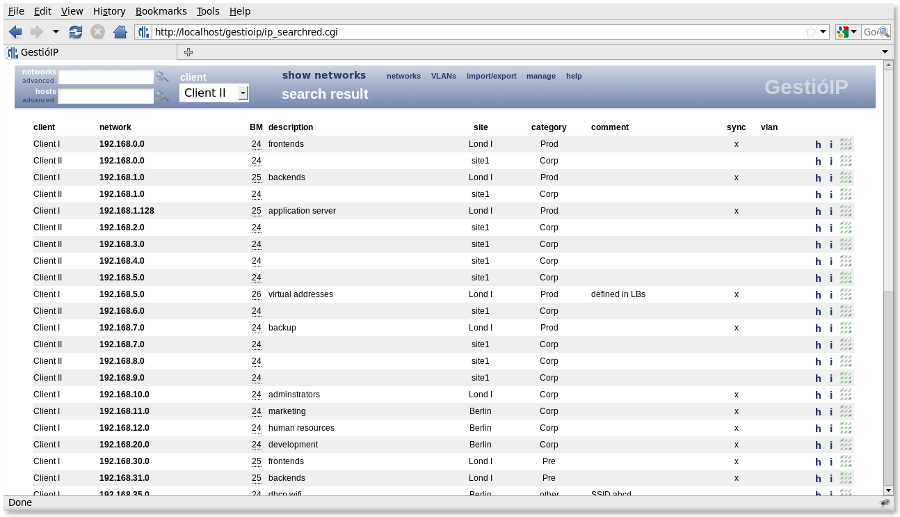 Web forms to easy migrate from spreadsheet based IP address management to GestióIP (forms to import spreadsheet for both networks and hosts)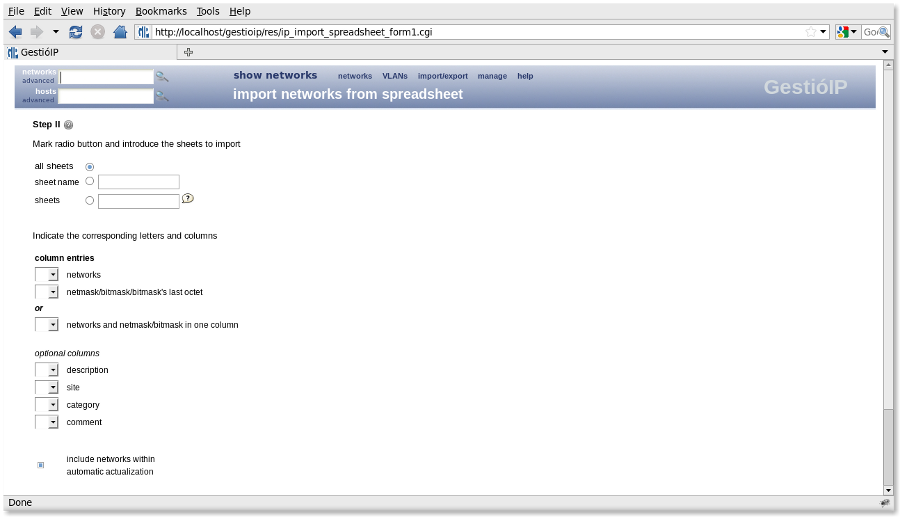 Web form to automatically import networks from the routing tables of SNMP enabled devices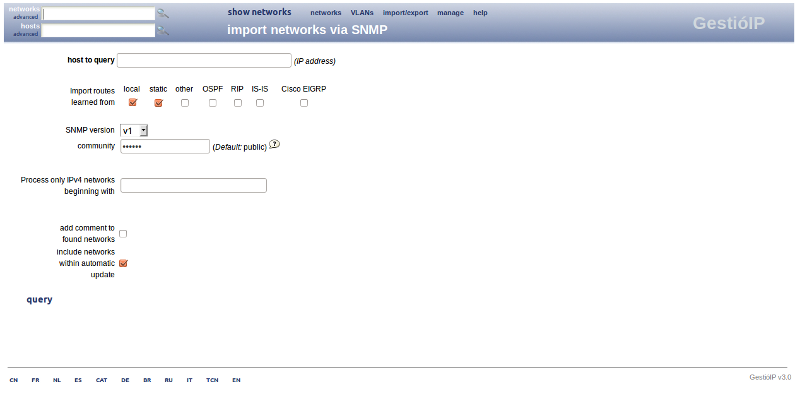 The integrated IPv4/v6 subnet calculator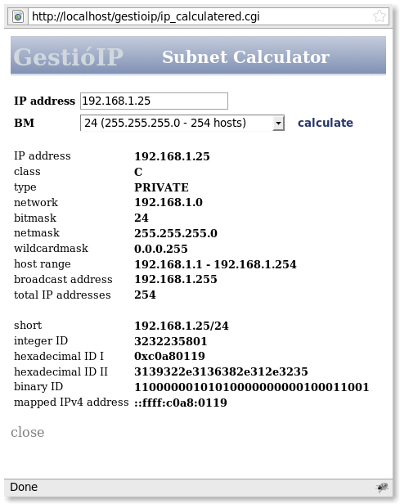 GestióIP comes with different tools to manipulate networks (edit/resize, reserve ranges, update against DNS, update via SNMP, split, clear, delete, join)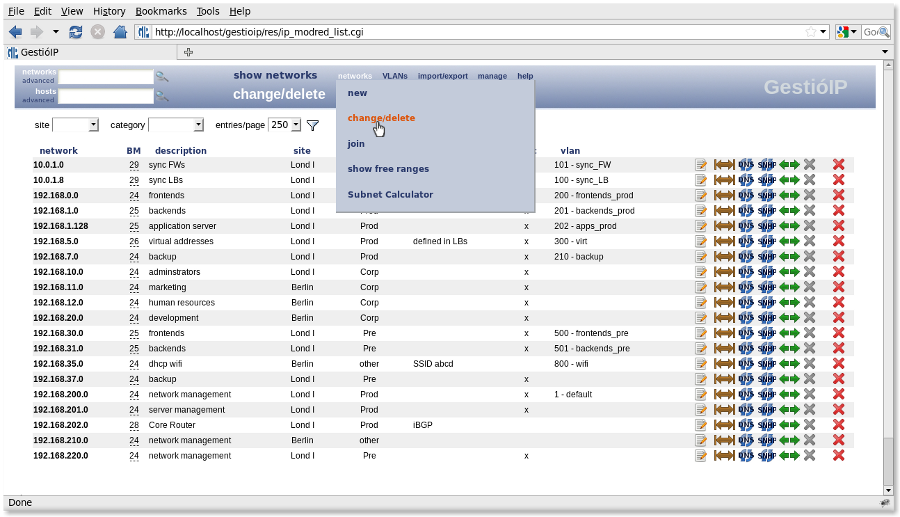 The free ranges view gives an overview of unused address spaces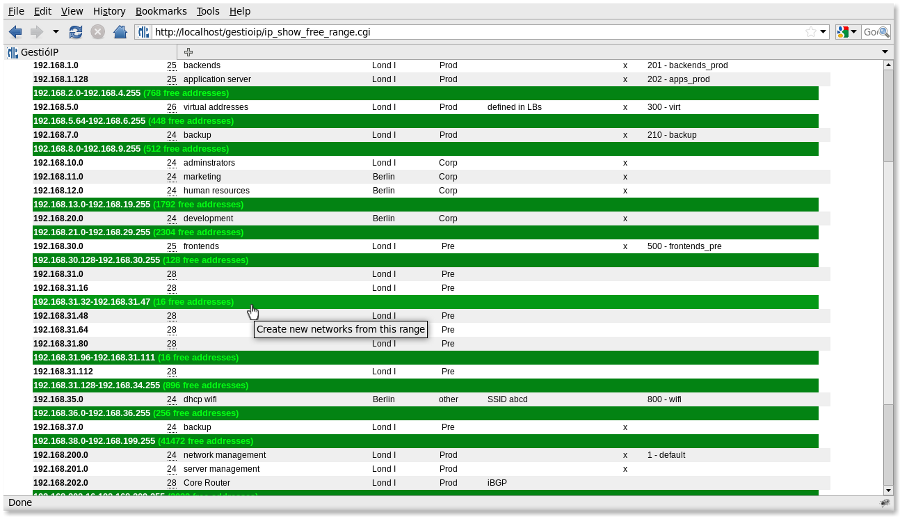 Result of a host search for "ftp"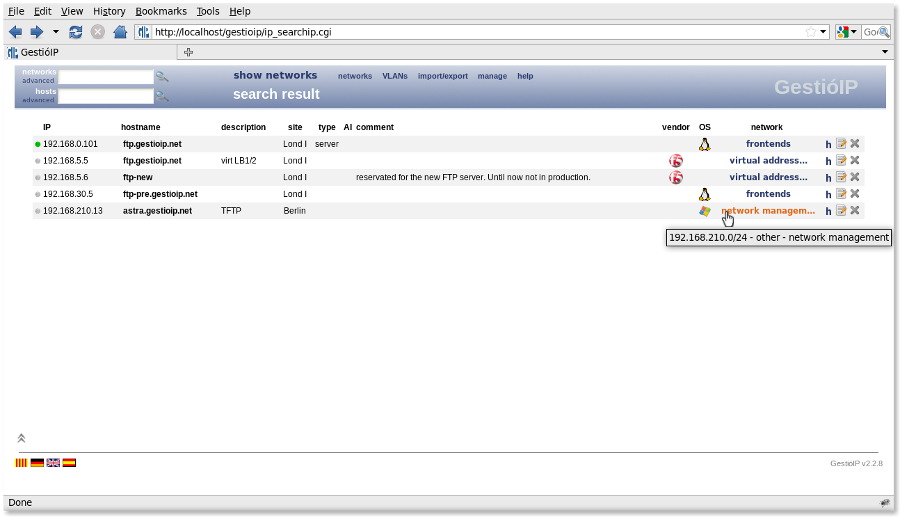 The Fetch Live Data feature show VLANs and interface statistics for network devices and data like CPU load and RAM usage for servers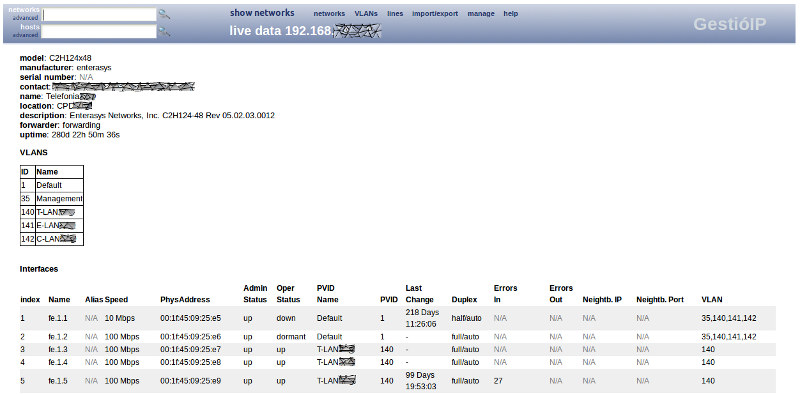 The Authorization System, which was implemented in version 3.2, allows to set fine granulated permissions for the different functions of GestióIP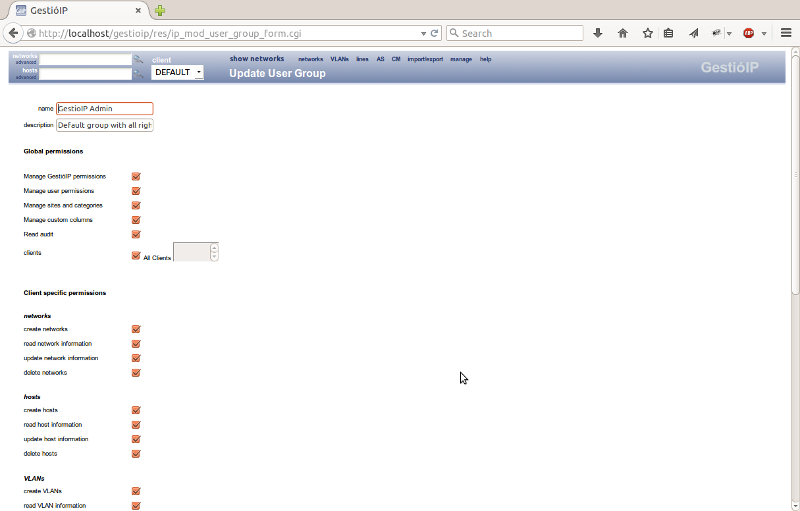 The audit log gives the possibility to show the events which have occurred in the networks

With GestióIP's statistics it's possible to list e.g. only networks with high or low occupation.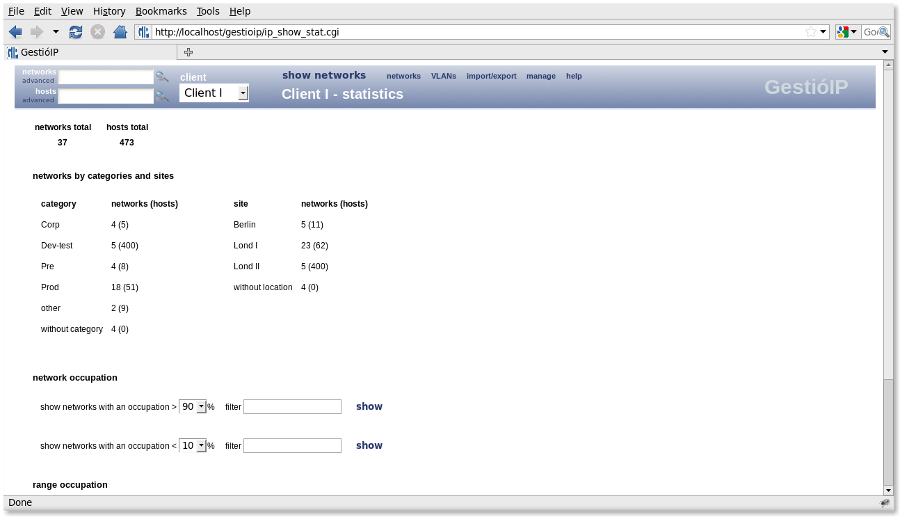 The incorporated DNS zone file generator is able to create forward and reverse zone files for the managed networks (with support for the namserver products BIND and tinydns).